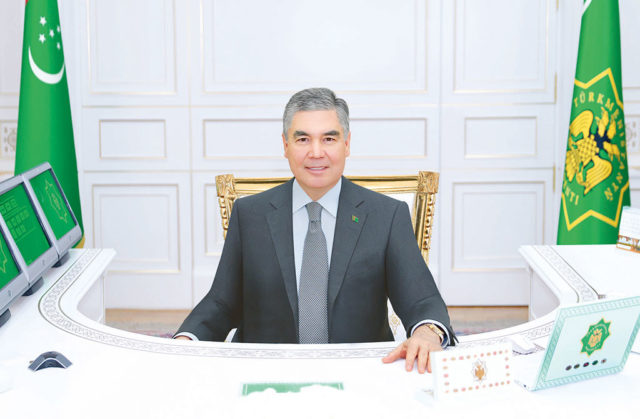 Turkmenistan, far and away the most closed country in the former Soviet space, seldom receives much attention except as the butt of dismissive jokes or, more recently, when its leaders tried to deny that COVID-19 is present in their country even as they took measures intended to hinder its spread (see EDM, July 21). But multiple reports over the last few days suggest Turkmenistan is fast descending into an economic crisis that makes its continued socio-political stability ever less likely. Moreover, this Central Asian country now has an opposition based abroad that is increasingly capable of providing leadership to local Turkmenistanis infuriated by the domestic situation they find themselves in as a result of the authorities' oppressive policies.
Because of falling earnings from its foreign sales of natural gas and the decision to reduce food imports as a result (see EDM, February 14, 2017 and May 19, 2020), Turkmenistan's government has recreated on its territory something not seen elsewhere since Soviet times: empty shelves, long lines of people seeking to purchase anything available, efforts by individuals to raise money for food by selling other possessions, and ever more restrictive rationing, especially outside the capital, but now within city limits as well (Hronikatm.com, October 19; Azathabar.com, November 13; Stanradar.com, November 26). Indeed, the situation has become so dire that officials have announced they even ran out of paper to print government newspapers and magazines. In the future, these will be issued only in electronic form, except for a few print copies produced for the elderly who lack computers (Ekho Moskvy, November 27).
None of this, of course, is being reported by state media, which continues to insist that all is well. The only news on this situation comes from media outlets operating outside the country that rely on reports from the domestic population. Those foreign-based sources are often ignored because their reliability is sometimes questioned and because the Turkmenistani authorities continue to insist all is well (Ekho Moskvy, November 27). And yet a growing volume of journalistic evidence is now coming out due, unintentionally, to two other Ashgabat policies. First, Turkmenistan's government still contends there are no novel coronavirus cases inside its borders but also continues to apply ever more restrictive measures targeting its population to prevent the spread of something it denies exists. This blatant contradiction has encouraged many journalists to investigate. And second, Ashgabat has decided to exploit the threat of a pandemic as an excuse to cut back on Russian-language instruction in its schools, something Moscow sharply opposes (Vzglyad, November 18).
More and more of the few existing experts on Turkmenistan are now predicting a looming explosion. Vitaly Ponomaryev, who heads the Central Asia program at the Memorial Human Rights Center in Moscow, told the news agency Fergana a month ago that there have been three waves of opposition activity in Turkmenistan. The first two were suppressed quickly and brutally, but the third, which involves Turkmenistanis both at home and abroad, is gaining strength. However, because of Ashgabat's tight control over the media and the failure of journalists to cooperate with Radio Liberty's Turkmen Service (the only foreign broadcaster in the country), few have taken note of this development. Nonetheless, Ponomaryev argued that this combination of popular anger and new opposition leadership may finally change the situation in Turkmenistan (Fergana, October 30).
His reasoning rests on the rise of protest activity among the Turkmenistani diaspora in Turkey, Northern Cyprus, the United States and the Russian Federation along with the growing ability of these groups abroad to reach people at home via the internet. According to Ponomaryev, this link is a key to the future, and Turkmenistan's government has responded by becoming somewhat more cautious in its approach to local protests. Earlier, the authorities would have sought to control the situation with mass arrests. But now, the analyst continued, the regime has brought far fewer criminal cases, although it still tries to intimidate the émigrés by bringing administrative charges against their relatives at home.
This shift in the manner of crackdowns has changed the atmosphere in ways that favor the opposition. In the past, few of the country's activists—at home or abroad—were willing to be identified under their own names out of fear of reprisals, Ponomaryev said. But now, most do share their names and other identifying information, indicating that they simultaneously feel the situation is becoming desperate and that they have lost some of their fear. "The Turkmen protest movement is a completely new phenomenon," the Moscow-based analyst asserted. "Fifteen years or more ago, there was nothing like this in Turkmenistan. It has arisen spontaneously but developed very rapidly." People there are tired of the repressive regime, and they are ever more willing to express their anger and listen to and work with émigré leaders.
The diaspora is attracting more attention as well because a woman, Dursoltan Taganova, has now assumed a leadership role. Given that she follows in the wake of Belarus's Sviatlana Tsikhanouskaya, ever more people in Turkmenistan and elsewhere are starting to believe that she can do more than any earlier Turkmenistani opposition leader to challenge and ultimately overthrow the repressive regime back home (Azathabar.com, October 29). Whether she will be able to do so, and whether the worsening conditions combined with a lessening of fear within society will open the way for such an outcome, of course, remains to be seen. Ashgabat may return to its more repressive policies and ultimately succeed in suppressing the current wave of anger sweeping the country. But the increasingly dire economic situation there makes that less likely and gives hope that the real "last dictator" in the post-Soviet space may not be able to hold on much longer.